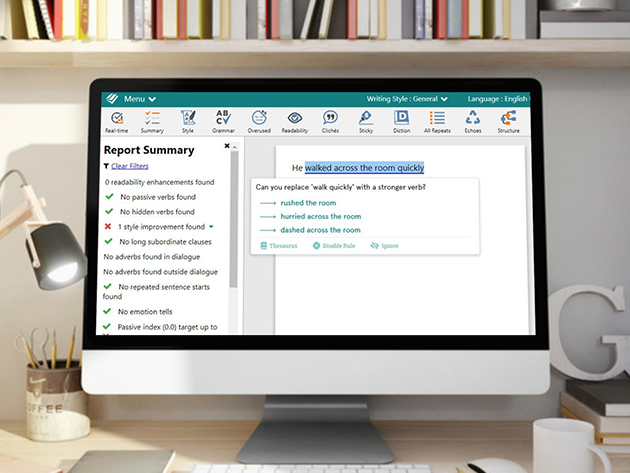 Imagine if you had a full-time editor looking out for you, flagging improper spelling and grammar, suggesting better ways to phrase things and helping you polish your overall writing style. ProWritingAid premium is the software that does just that: catching your silly mistakes and assisting you in crafting your best written work.
ProWritingAid is designed to assist authors, copywriters, bloggers, students and anyone looking to better their writing with ease. This package includes an all-in-one grammar checker, style editor and writing mentor.ProWritingAid's editing technology uses artificial intelligence to assist you with much more than grammar, helping you to develop your writing style, effectively express your ideas and grow as a writer.
ProWritingAid tracks common mistakes and bad writing habits, suggesting style improvements when you need them. The built-in word explorer and contextual thesaurus allow you to search for the perfect word without interrupting your workflow. A Chrome extension is included so you can double check your Tweets, emails, blog posts and any other web copy.
Whatever type of writing you do and no matter where you are in your career, ProWritingAid will provide helpful, effective and convenient assistance. Thanks to our friends at Dealsora.com, you can get started today with a two-year subscription to ProWritingAid Premium that's been marked down from $90 to just $44.99.